Posted by suevenman on Nov 7, 2014
Along with the first frost o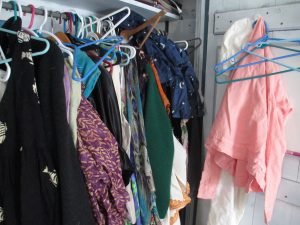 f the season comes my perennial hunt for turtlenecks, wooly socks and cozy sweaters. I found my shirts in the back of a drawer where I'd shoved them last spring to make room for t shirts. The socks had remained in the unsorted sock box because there'd been no room in my dresser. And I found the sweaters in the closet, wedged between a dress I'd worn to my 40th birthday party and a lime green linen jacket, complete with shoulders pads. This year, I promised, I'd follow my own, best advice.
My clothes hunt reminded me of my client Jenny. Jenny has plenty of clothes, but can never find anything to wear. She lives in an old farmhouse built in the days when tiny closets easily accommodated your Sunday Best and a couple changes of weekday wear. But Jenny has more than a Sunday Best: she has summer and winter versions of her professional garb, leisure wear and a couple dozen pants, blouses and vests, all crammed into a space the size of a diminutive dollhouse.
Jenny's morning search for an acceptable outfit became an exercise in frustration akin to finding a parking space in Manhattan. All Jenny wanted was to easily find the clothes she needed when she needed them, without plowing through ski wear, beach wear and her daughter's prom dress from 2005.
Sounds familiar? Unless you have endless closet and drawer space, you've likely dealt with this organizing issue. Here's a simple seven step solution to Jenny's dastardly dressing dilemma: it's called the Seasonal Swap.
1)   Clear. We took everything out of Jenny's drawers and closets.
2)   Sort. We set criteria for what to keep: any garments that were ripped, stained or hadn't been worn in a year were set aside.
3)   Love it. From what remained, Jenny kept only the clothes that made her feel great or which she wore regularly, like her gardening grubbies.
4)   Separate & Store. We separated the remaining clothes into winter and summer wear, boxed up and labeled the warm weather garments and stored them safely away for next summer.
5)   Re-shelve. Without the additional clothes, there was plenty of space for Jenny's seasonal wardrobe. And, as a bonus, she knew the closet was full of seasonal clothes that made her feel like a million dollars.
6)   Pass it on. Clothes Jenny no longer needed were donated, sold or added to the textile bin at her local recycling.
7)   Celebrate: Jenny celebrated her success every morning when she quickly and efficiently found clothes for the day that fit, looked great and were perfect for the season.
This simple seven step solution works no matter how many clothes you have. It also gives you a chance, twice each year, to ask, "Does it fit? Does it make my heart sing? And, do I love it enough to rent it space in my closet?"
Happy Organizing!
Posted by suevenman on Feb 19, 2014
Marge, a 60-something professional with a Masters in Social Work sought my help to get through a difficult organizing project. Despite years of guiding people as they made tough decisions, she was overwhelmed with all the decisions she needed to make as she cleaned out her late mother's attic.
We cut through much of Marge's overwhelm by following the organizing steps I laid out in my January posts (if you missed them, scroll down to the January posts, starting with January 10th).
Following these steps, we divided the contents of the attic's 50-plus boxes into piles: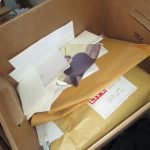 Keep
Donate
Throw Out or Recycle
Don't Know
Later, as we were hauling out the accumulated pile of garbage, I picked up a cardboard box that had been thrown into the pile before I arrived. From the denominations of the stamps in its corner, it had clearly been around for a while. I asked Marge if she'd been through the box. She dismissed it saying it was full of cards and letters her mother had received from her grandchildren in the 80's and 90's.
A light bulb went off in my head: Teaching Opportunity!
I set the box aside until we had a dust-free moment (which accompanied a cool and very welcome glass of iced tea). I pulled out the box and suggested to Marge that when we're faced with the difficult task of figuring out what to do with someone else's possessions, one of the questions we need to ask about each piece we encounter (except the frayed dish towels and the 60 years of collected National Geographics) is, Whose story does this tell?
Most of the time, stuff is just stuff. But now and again, stuff tells a story. If it's your story: I won this vase at the State Fair and gave it to Mom for her birthday, then you get to decide what to do with it. But if it's someone else's story: for example, cards and letters from beloved grandchildren, then deciding what to do with the item in question is not your job. What is your job is reconnecting the stuff with the storyteller.
Sorting through another person's possessions is a huge, and not always welcome responsibility. Asking the simple question, Whose story does this tell? breathes space into the task, and with the space, a bit more clarity.
Hats off to those of you facing this daunting job.
Posted by suevenman on Nov 20, 2013
Little boxes on the hillside, little boxes made of ticky-tacky.
~Malvina Reynolds
Does it seem to you that November is racing by? Is it possible that Thanksgiving is just around the corner? And then, before we have time to take a breath, it's December! Gadzooks! Just when you'd like to be kind and gentle to yourself, your family and friends, the time-treadmill lurches into the high speed.
And it's not only time pressures that accompany the holiday season, it's also the pressure of stuff.
So how do you make a bit of space: space for you and space free of clutter and chaos?
Posted by suevenman on Oct 18, 2013
Does this sound familiar?
You're looking for the gift you've been planning to give your sister. Maybe you stashed it upstairs in the hall closet when you had last-minute guests. You go upstairs and find a box on the top shelf tucked under a couple shoe boxes (photos? old baseball cards?), a precariously balanced deviled egg platter and what looks like a Christmas sweater box. You can feel your forehead tighten.
Your mind starts to churn. What's in that box? Let's see, it was probably last summer when you put it up there … hmmm … tick-tick-tick … whrrrrrr … buzzzzzzz … but the box really isn't the right size, so maybe the present is in the bedroom closet. But then, what's in this box? No time to take it down now: supper is on the table and then there's that board meeting.
As you drive to the meeting you find yourself thinking about that box and mentally unpacking it. Maybe the present is smaller than you remember and it's in the box after all. Grrrrr … tomorrow you'll take the time to pull out the step ladder and get down the box and see what's in it!
And what could have spared you all those additional grey hairs? Read the rest of this entry »
Posted by suevenman on Sep 19, 2013
The cold wind doth blow, and we shall have snow, and what will poor robin do then, poor thing? ~ English Children's Rhyme
Let's continue last week's Seasonal Swap theme with a look at household items, other than clothes, that we store when warm afternoons turn into frosty nights.
Gone are the days when we replaced cotton or rattan floor coverings with warm wool carpets. But we still need storage for lawn furniture, air conditioners and those cute little garden gnomes that don't like the snow. The good news is that each swap comes with the opportunity to get clearer about what goes where (admittedly, I might be the only one in the room who thinks of this as good news).
Posted by suevenman on Jun 13, 2013
"The ability to simplify means to eliminate the unnecessary so that the necessary may speak." ~Hans Hofmann

A while ago I was working with a young mom whom I'll call Linda. Linda asked me a question which I hear at least every week, if not every day, "How much stuff is the right amount?"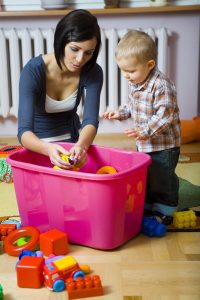 At the time, we were talking about her 3 year old son (I'll call him Timmy).  Toys, craft materials and children's books were taking over the kitchen, the living room, the dining room, the den, as well as Timmy's bedroom. You couldn't walk through a room without stepping on a Lego or a stuffed animal. It was making the whole family pretty cranky. These young parents wanted to provide as rich an environment as possible for their young son, but knew that something wasn't working. Read the rest of this entry »
Posted by suevenman on Mar 8, 2013
What to do with your V.I.P.s ~ Your Very Important Papers
In honor of tax time, I've been running a series on managing paperwork. The amount of paper we receive through snail mail, our kids' schools and our own work has far outstripped our ability to deal with it. Every one of us needs a personal assistant to handle processing and filing!
In the last two posts I reviewed guidelines for what financial and medical papers to keep and for how long. If you missed any of the series, just scroll down and you'll find them. Today's topic is identifying and properly storing your VIPs ~ your Very Important Papers. Read the rest of this entry »
Posted by suevenman on Feb 20, 2013

In my last post in the series, "What the heck you do with all that paper?" I reviewed the keep vs. shred guidelines for financial papers. I heard from a couple of you about special circumstances where my advice wasn't 100% accurate; self employment being one. So, my caveat: if you have special situations, please consult your accountant.
This week we're tackling which medical records you need to keep. Every visit to the doctor, pharmacy transaction and insurance payment generates paper. Most of these papers end up either in the trash (often unopened) or in the nearly-toppling-over-figure-out-or-file-pile. So, here's the plan: Read the rest of this entry »
Posted by suevenman on Jun 5, 2012
My self-imposed come-to-Jesus talk last week must have done the trick. As you can see by these pictures, I finally started the hands-on decluttering my barn.
The steps I took to organize my yarns were similar to those outlined by Joanna (the founder of Breathing Space) in her book, Decluttering 101, with a few tweaks to fit this project. I hope that those non-knitters among you will be able to translate these steps into other organizing projects that involve sorting materials of various kinds. Read the rest of this entry »