Posted by suevenman on Feb 20, 2010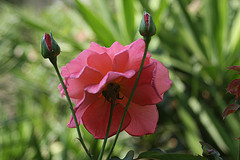 This was a  pre- Valentine's Tip from Sue- but having just re-learned how to get our tips into the blog-here it is:
I am more and more convinced that our happiness or our unhappiness depends far more on the way we meet the events of life than on the nature of those events themselves.
~ Karl Wilhelm von Humboldt
I have always loved Valentine's Day, but not for its Hallmark glitz or heart-shaped candy boxes.  Valentine's Day gives us the opportunity to stop and express our love and gratitude.
In anticipation of the 14th and in gratitude for my mother, who taught me to love, I offer you these words. Read the rest of this entry »
Posted by suevenman on Jul 24, 2008
Last week I FINALLY tackled something that has been even more of a
SHOULD than writing to you. As I finished up I thought – THIS is
what I will write about for my long overdue tip — the sense of
oppression that can come from a not faced, not done task. And the
immense relief that's possible. Perhaps you have experienced what I
am talking about … maybe at this very moment you have some of
that very frustrating glue keeping you stuck.
You know, people often think that because I help people get
organized, I am EXTREMELY organized myself. Well…. Though I do
like the space around me to be as clutter free as possible, at times
I get mired myself, especially when I'm avoiding something that
needs to be done.
What was my glue this time? Well, way back on June 2nd, after a
pretty difficult day, I was typing at my computer when suddenly our
downstairs neighbor was hollering to me! When I rushed to see what
was happening I discovered a major waterfall streaming onto the floor
from my kitchen sink. I hadn't heard a thing! Turning off the water
I raced downstairs and found water pouring out of her ceiling light.
Oh my gosh! Turn off the electricity. Get flashlights and towels!!!
We live in an old house- with plaster, lath and so forth and the
downstairs apartment has a painted tin ceiling! I dealt with the
immediate water and mess but over the next few days the ceiling
started breaking out in rust spots. Since the problem was 100% my
creation, it was also mine to fix.
The reasons why I didn't get to that ceiling? I can't remember half of
them. Every time I saw the ceiling I would mentally cringe. Meanwhile
other things that felt hard to do were adding up. I'm talking about
WEEKS of avoidance… and luckily a very patient neighbor.
But this afternoon as I write to you whole project is done. Once I
started it only took me a COUPLE OF HOURS and nine dollars at the
hardware store to do the job. PLUS, I got several other things done
while the primer dried! Oeeeeeee.
So.. .dear reader, may you use this tip as a magic wand. It comes with
my hope that in the next couple of days you will jump in and tackle
ONE task you have been avoiding like the plague… don't THINK about
it any more, just take the first step! Go get the ladder and start.
Wishing you a fine two weeks … do let me know if you there's any
specific organizing challenge you'd like to have discussed!
Posted by suevenman on Jul 17, 2008
When did you last make a major change in your home or office?
Having lived in our current home for 4 years this month, we finally solved a space problem by taking a somewhat radical step. It's worked out GREAT!
Why didn't we do it before? I think because the idea was too "out of the box", at least our box.
In it's briefest telling – what we did was shrink our living room and music room/dining room into one room, making the living room which had been seldom used into our bedroom and making our bedroom into my office. Voila! A) No more renting office space, B) We are relaxing more on the sofa in the living room because it is now central, and C) We love our new bedroom!
From our bed we can look out into the trees instead of at the house next door and the French doors to the porch make the bedroom feel quite luxurious whereas we hardly saw them when they were "living room" doors.
Why am I telling you all this?… Because, I want to encourage you to consider your current use of space. Is there a way to rearrange things to create a space you've been wanting? Whose rules are you following? And whose home is it anyway?
Do send news about any radical space changes you make! OKAY?
p.s. Questions? Ask away!
Posted by suevenman on May 22, 2008
I hope Spring has been treating you well… here in Vermont a
hundred shades of green have finally replaced the images
of the long white winter.
Working at my computer I can see the lilacs in the vase on
the corner of my desk as well as breathe in their wonderful
smell. When I mentioned this on the phone to my colleague May
Johnstone of www.delicioushealing.com the other day she said,
" Oh I LOVE them but they always wilt right away when I
bring them inside!"
I told her something I realize now that I learned long ago. She
emailed back,"Aaah, the scent of lilac wafting over my desk! I'm sooo
grateful for your tip. Bet others would be too, how about it?
Sure here 'tis:
Lilacs or any other flowers with a woody stem need more access to
water than they can get via a normal straight cut. The secret is
to mash an inch or two at the end of the stem with a hammer or
mallet. This spreads out the stem and greatly increases the area that
can bring in water.
The hammering can seem a bit awfull but since lilacs are so delicious
and disappear so soon after they bloom – it seems worth it to me to
enjoy them inside your home as well as outside.
All best wishes, Joanna
p.s.FLOWERS are a great inspiration for keeping a table or desk top
uncluttered. When you have something beautiful to look at, it makes
it harder to let stuff pile up around it. Do consider placing flowers
in your daily spaces.
Posted by suevenman on Apr 18, 2008
I haven't forgotten you though last week's TIP DAY went right by
without a peep from me. In fact( in my thoughts) I was talking with
you most of last Sunday while I sat on my living room floor weeding
through ancient papers. And ever since then I've been having an
ongoing "conversation" with you about time,energy and STUFF!
Here's a short summary…
Luckily Sunday was cold so it wasn't so bad spending the WHOLE
afternoon and evening – NINE HOURS- inside reading old letters etc.
There were a couple of sermons my grandfather wrote in 1915;letters
my mother wrote to my grandmother in 1944 – and letters I wrote
in 1955 and so on. Yoiks! Reading those letters corrected some
of the "facts" I thought I knew about my life. But do they matter?
Here's the thing — the plus and minus of stuff.
There are current activities I really care about…the El
Salvador scholarship project, learning Spanish, time with my family,
my 91 year old dad and so on.
I think there is a real questions about the importance of old papers
(sorry historians). If my mother hadn't held onto those boxes after
my grandmother died and if I hadn't kept them when my Mom died —
would I be any worse off?
I think of my dear friends in the little village in El Salvador who
have NO boxes of old papers — does that make their life worse or
better? And their kids have no toys or at most ONE…yet they play
joyfully.
I've agreed with my daughter that I will keep a SMALL sampling of the
old papers to pass on to her- ONE BOX. But I really do think that moment
by moment or day by day it comes down to a decision of HOW DO I WANT
TO SPEND MY TIME? What matters most to me- TO YOU?
STUFF definitely uses up time.Today I leave you with a QUESTION.
How do you want to use YOUR spare time?
Posted by suevenman on Mar 28, 2008
With Spring arriving – slowly in Vermont- more quickly further
south, I am beginning to hear lots of conversations about SPRING
CLEANING and have decided to take a moment with you to consider
the touchy subject of LETTING GO. I know personally, as well as in
my work, that it isn't so easy!
What about one client's photo albums from 30 years of teaching?
What about the Doonesbury cartoons from the '70s? For me – it's what
about all the letters I've saved? And what about the 12 years of
newspaper articles on organizing?
The spaces I currently have for storage are full and I have NO desire
to create additional storage. I know by experience that at some point,
someone will have to deal with my stuff. So what to do?
If I want to declutter I have to take some time to consider my
personal reality with questions like:  When I have free time how do
I truly choose to use it? Is that likely to change radically? If I
couldn't go anywhere (due to physical challenges) how would I
actually spend my time? What IS this stuff all about for me?
I know that the Doonesbury books were taken to a used bookstore
where you can put credit on an account for future book purchases. I'll
let you know what the teacher does with her albums.
And me? I've decided to do a major paper sorting in the next month and pare
way down. I'm not a historian and have no desire to be one.  So I'm
going to try keeping sample letters and sample articles and see how
that goes. I'll also follow my own advice to write the date of when
I make the Keep decision – on each item. Then on down the road I
can see how long it takes me to look again at the things I've kept.
What is the stuff that gives you trouble?  Want to make April the
month for dealing with it?  I'd love to hear what you do!  And if
you get stuck, feel free to email or call.
Posted by suevenman on Mar 13, 2008
Working with a new client the other day I was reminded of how
tempting it is to think that buying organizing STUFF will solve the
problem. Catalogs show beautiful,serene spaces trying to convince
you that all you need is to buy a new SOMETHING.
My strong recommendation is DON'T!!! Don't buy new shelving , new
containers nor another file cabinet. Not yet.
First – find out what you really need and want in your space. There
may be a lot of things you almost never use.  Say it's a bunch of
bowls that you want to keep for the future when you have more
time for company… Rather than purchasing a new cupboard and
filling up your daily living space … put the extra items put in
a clearly marked space in the attic or basement or even in the
back of a closet.
If you want less clutter, the first thing to do is consider
what you want to see(admire) or use everyday …
Once you KNOW for sure what you really need and want in your
active( most lived in spaces), then it MAY be time to buy a
container.
So FIRST – declutter!
Posted by suevenman on Jan 5, 2008
Happy New Year!
I've been thinking about you – wanting you to start off the New Year
with a sense of comfort and possibility about the spaces you occupy.
I was about to send a specific action tip, but talking about it with
my friend May of www.delicioushealing.com, we realized that we both
wanted our first communication of 2008 to be about the heart of
matters.
So breathe!  There'll be plenty of "what to do" organizing tips
coming your way in 2008 … starting with the one I was about to
send, but right now, as the New Year begins, take a long deep
breath in/out …ahhhhhhhh –  and then another, and one more. Yay!
Now, in your thoughts choose one space you wish was working better
for you.  If you can spare 15 minutes now to mull over the
questions below – great.  If not- make note of the space you want
to think about when you have a tad more time.
Here are a few questions that will help as you consider your space.
Depending on your usual thought process and your current mood some
will work better for you than others. See which one(s)speak to you!
What is the purpose of this space?  Has the purpose changed? And if so- does the physical lay out and the stuff in it still fit?
How would I most like to use the space?  Can I make a shift in that direction?
What do I really NOT like in this space?
What do I NEED to have in the space?
Is there something I would like to feature? A piece of art or a plant or something else?
If I had a magic wand how would the space feel and look?
Answers to any of these questions will help you envision changes in
your surroundings that will give you a boost as the year unfolds.
As always, I'd love to hear — either by email, phone,(or as a comment
on my blog where these tips
are also posted) what you discover, and what happens after that.
Wishing you great spaces and lots of good surprises in the year
ahead!
Posted by suevenman on Nov 19, 2007
I've been thinking that for most of us, the weeks ahead only get
busier. So here's my proposal/tip:
THIS WEEK – Take time with friends and family to chat together
about their and your true priorities. Try discussing which of your
traditions are the most meaningful to you; which activities give
you the most joy.  Think about what would you like to do
more of THIS year. What do you really want to share together in
December 2007?
Let it be an experiment… Your decisions can be for just this one
year. Try something different. See how it feels.
And now, my heartfelt thanks to each of you for the priviledge of
communicating with you. I love having the chance to try to help make
life easier.
Posted by suevenman on Oct 18, 2007
As cooler weather once again moves your world toward the indoors,
it's time to take a look at your prime real estate . What's that???
That's what I call the spaces you use most on a daily basis:
kitchen, bedroom,living room,office…
It is here where the keep test is most relevant. Ideally you can
move around these spaces- feeling supported, maybe even blessed by
your surroundings. For that to be possible I believe that those
items that occupy your daily space need to pass the most rigorous
questioning of:  Do I LOVE this?  Do I USE it?  Is it a treasure?
Otherwise chaos can quickly take over your most lived in spaces,
taking away the security of knowing where the things are that you
really need and want.
The way I see it, there is so much stuff that comes in every day
that, if you want a sense of comfort and clarity, the items you
hold on to need to PROVE themselves worthy of belonging in your
space.
Rest assured, this is something I regularly have to work on myself.
This week it's in my office (sigh) where it's either me or the stuff.
So please don't feel alone in your process…and DO feel free to email
me with your struggles, questions and/or victories.