Posted by suevenman on Apr 24, 2014
Minus the question mark, this was the title of a New York Times Home & Garden article by Penelope Green, which I rediscovered while combing through my files in search of inspiration. Ms. Green discusses the mess-apologist movement in light of David Freedman's clutter treastise, A Perfect Mess: The Hidden Benefits of Disorder. In it, Freedman explores the high cost of neatness and jokes about the country's obsession with decluttering containers.
While I'm not a mess-advocate, I'm also not a clutter-busters-buy-containers groupie. My stance is somewhere in the middle.
For me, it all comes down to whether or not the space you inhabit helps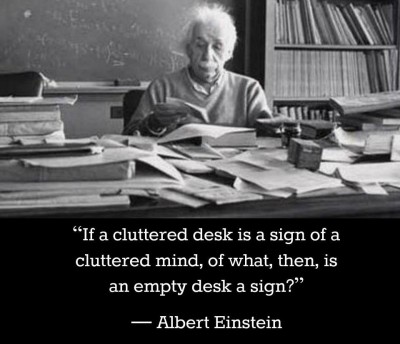 you be who you want to be and do what you want to do. If you're happy in your space, your household isn't rebelling and the fire department hasn't declared your home a hazard, then let it be; even if the Martha Stewarts of the world are tut-tutting.
The degree of acceptable messiness is not about what your mother, your neighbor or your Uncle George consider acceptable. It's all about what allows you to thrive and what helps or hinders a life of joy and serenity.
Now, I'm a very visual person and happiest when surrounded by order and beauty (which is why I have 5 daughters).  I like looking at the spaces I occupy and cherishing what I see. When things get too cluttered I get grumpy and can't think straight.
On the other hand, my husband is very content in his (somewhat messy) study, where he talks with colleagues, works at his computer and gazes out onto the back yard pondering his next garden project; all while happily surrounded by what I consider clutter. To paraphrase Green's article, he's able to find what he needs and be creative amidst the chaos. More power to him.
If you work well in a mess, call it creative clutter and carry on! There are many more important things in the world that need attention. But if you need more order and find that clutter clogs your path to happiness, then by all means, de-clutter, de-clog and de-light in your new space.
It's all about you!
Posted by suevenman on Feb 28, 2014
My dear, here we must run as fast as we can, just to stay in place. And if you wish to go anywhere you must run twice as fast as that.      Lewis Carroll, Alice in Wonderland
Back in my hurried and harried days, I judged my importance by the number of keys hanging from my key chain and how many Xeroxed pages I was toting around in my backpack. Sad? Sad. Whether keys or copied documents or yet another meeting, I now get it: more is not always better, sometimes it is just more.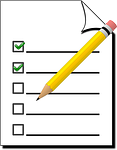 Scenario: You have 15 things on today's to-do list; everything from picking up cat food to talking to a colleague about the new product idea you've been pondering. At the end of the day, you accomplished 14 of the tasks. Work well done? Perhaps. But what if the remaining task was the most important and time sensitive of the lot? Work well done? Maybe not.
Leading a less harried life and reducing the "more" to less takes commitment and courage. Because prioritizing isn't just about deciding what to do. It's also about deciding what not to do; and we've all found out that saying, "No" takes a strong spine.
So how do you decide when to say, "Yes" to and when to say, "No?"
To make a sound decision, you need criteria. Have you ever seen one of those egg-size sorters? The egg rolls down a shoot with graduating holes, smallest to largest. If the egg's the right size, it drops through the hole (presumably onto something soft), leaving the larger eggs to keep rolling. Task criteria are like sizing eggs: well thought through criteria will objectively sort the least important tasks (the smallest eggs) from the most import (the duck eggs).
To develop sound criteria, consider:
Consequences
Risk, and
The human element
Consequences:
What will be lost or gained as a result of choosing to work on one task versus another?
For example, not paying a credit card on time has a costly consequence; but there is little consequence if you postpone planning your summer vacation when it's still the beginning of January.
Risk:
Is there the risk of a negative outcome if any one of the tasks is not accomplished?
For example, if you delay ordering the rare book you finally found after a 10 year search, will someone else snap it up?
The human element:
Who will care about your decision if you do or don't do this task, and how important are their feelings?
For example, if you insist on finishing every last task on your to-do list, you'll be late for your child's birthday party. Does it matter? Maybe not to you; but your child will be crushed if you don't show up.
Lesson: there are times when you need to put down the to-do list and take up the more important things in life. Chances are, the list will still be there when you return.
Here's to making your to-do list a playground, not a prison.
Posted by suevenman on Nov 20, 2013
Little boxes on the hillside, little boxes made of ticky-tacky.
~Malvina Reynolds
Does it seem to you that November is racing by? Is it possible that Thanksgiving is just around the corner? And then, before we have time to take a breath, it's December! Gadzooks! Just when you'd like to be kind and gentle to yourself, your family and friends, the time-treadmill lurches into the high speed.
And it's not only time pressures that accompany the holiday season, it's also the pressure of stuff.
So how do you make a bit of space: space for you and space free of clutter and chaos?
Posted by suevenman on Oct 30, 2013
I love Hallowe'en. I love the costumes. I love the mystery. And face it, I love the candy. My husband hid our stash so I wouldn't consume every tasty morsel before the 31st. But I've found it (don't tell him) and have been nibbling away; so much for losing those 5 pounds.
Between bites, my Hallowe'en musings lead me to ponder masks. In my organizing work, I often see how our cluttered-selves mask our real-selves. I frequently hear, "I'll get to that (really important, but scary and self-revealing) project once I clean out the garage (or closet or attic)."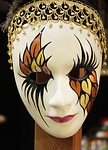 It's easy to hide behind the clutter in our lives. Read the rest of this entry »
Posted by suevenman on Sep 27, 2013
Last Saturday I did something that I've warned many of you never to do: I held a tag sale.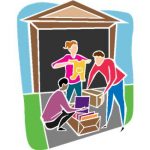 Also known as a yard, garage, rummage or boot sale (as in the English "car boot" or trunk), I have repeatedly cautioned you not to spend time and energy on something that will likely only net you a couple hundred dollars. And yet, there I was, up at the crack of dawn, hauling out boxes of books and vinyl records, house wares, blankets and comforters, furniture and more decorative tchotchkes than even Yankee Candle could find room for.
So, why did I do it?
Posted by suevenman on Sep 12, 2013
Since we're at that time of the year when the weather is rapidly changing, I decided to revisit the seasonal clothes discussion.
Last week I worked with a client, Jenny, clearing out a long-neglected closet. At the back, squashed between a couple of summer dresses and a pair of ski pants, was a favorite jacket she thought she'd lost. It was like a reunion with a favorite college roommate. But as Jenny had just purchased an expensive replacement, she was a bit irked. To avoid this unnecessary frustration in the future I suggested she adopt the seasonal swap.
Nowadays lots of folks don't store away off-season clothes, choosing instead to leave everything in their drawers and closets regardless of whether they are currently wearing them. But for more ease in your daily life (and to lessen the chances of losing favorite garments), I suggest trying out the seasonal swap. It's a delight to reach into your closet and actually be able to wear anything you see and touch.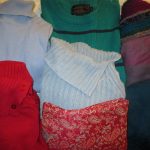 Read the rest of this entry »
Posted by suevenman on Aug 29, 2013
"Summertime, and the livin' [was] easy."~ Porgy and Bess
I had my first sighting of fall colors the other day. No matter when they show up, it's always too soon.
As summer days decline and back-to-school sales start to look a bit frayed around the edges, I ask what summer treasures I want to bring forward into the cooler weather. I have the pickles and salsa I canned earlier this month to remind me of vine-ripened freshness. But what warm-weather-ways might brighten my spirit as the days grow short? Read the rest of this entry »
Posted by suevenman on Jul 25, 2013
Every summer I bring my houseplants outside ~ Plant Camp, my sister calls it. And every fall, before the first frost, I bring them back in. I then spend the winter combating mealy worms and creeping cotton (or whatever it's called). I've fought the good fight for years. The score is Mealy Worms ~ 100; Sue ~ zip.
So, I've made the boldest decluttering decisions of my life: I've decided to rid my house of bug-infested plants. Even the jade that I nurtured from a wee tiny cutting is now compost. It was drastic. It was harsh. I'm sure that I'll get emails telling me how I could have conquered creeping crud. I'm sure my dreams will be haunted by flying Spider Plants and Swedish Ivies. But I'm willing to risk being given the evil eye by plant lovers. Read the rest of this entry »
Posted by suevenman on May 15, 2013
Be like that bird who,
pausing in flight feels
the bough give way
beneath her feet
and yet sings,
knowing she hath wings.
~ Victor Hugo
 Brenda, a fifty-something woman with teenage children, an active civic life and a full time job requested a home office consultation. Her main problem was that during the two days each week that she worked from home, she took over the dining room table. She wanted to make her office more accessible and reclaim her dining room table for family meals.
The first thing I noticed walking into her office was not the clutter, it was the lack of anything interesting anywhere in sight: not a family photo, not a kindergarten finger painting, not even a houseplant. It was no wonder she never wanted to sit at her desk.
To make a space attractive, organizing is only half the work. If there is nothing that sparkles and shines and reminds you of how much you love and are loved, than the space won't be compelling, no matter how well organized. Whether it's grandma's wedding photo, the collar from a favorite pet dog or shells collected from the shore, objects that inspire are essential to transforming space. Read the rest of this entry »
Posted by suevenman on May 9, 2013
Hiatus: "Any opening, break or interruption of continuity."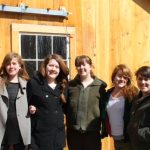 My hiatus from tip writing began with a 2-week visit from my middle daughter. As she hadn't been out east for a couple years, her visit became a 2-week daughter-fest. This was followed by a succession of one-time, time-consuming events, ending last week with magnificent performances of the Bach Mass in B Minor by my chamber chorus.
All were wonderful and fun and joyous reasons to interrupt my normal weekly rhythms. And as I emerge from the last six weeks of delightful disruption, I ponder how to stay on track when events – whether joyous, difficult, sad or just annoying –disrupt the flow of living. Read the rest of this entry »