Posted by suevenman on Nov 7, 2014
Along with the first frost o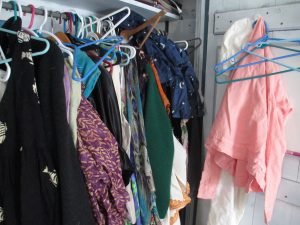 f the season comes my perennial hunt for turtlenecks, wooly socks and cozy sweaters. I found my shirts in the back of a drawer where I'd shoved them last spring to make room for t shirts. The socks had remained in the unsorted sock box because there'd been no room in my dresser. And I found the sweaters in the closet, wedged between a dress I'd worn to my 40th birthday party and a lime green linen jacket, complete with shoulders pads. This year, I promised, I'd follow my own, best advice.
My clothes hunt reminded me of my client Jenny. Jenny has plenty of clothes, but can never find anything to wear. She lives in an old farmhouse built in the days when tiny closets easily accommodated your Sunday Best and a couple changes of weekday wear. But Jenny has more than a Sunday Best: she has summer and winter versions of her professional garb, leisure wear and a couple dozen pants, blouses and vests, all crammed into a space the size of a diminutive dollhouse.
Jenny's morning search for an acceptable outfit became an exercise in frustration akin to finding a parking space in Manhattan. All Jenny wanted was to easily find the clothes she needed when she needed them, without plowing through ski wear, beach wear and her daughter's prom dress from 2005.
Sounds familiar? Unless you have endless closet and drawer space, you've likely dealt with this organizing issue. Here's a simple seven step solution to Jenny's dastardly dressing dilemma: it's called the Seasonal Swap.
1)   Clear. We took everything out of Jenny's drawers and closets.
2)   Sort. We set criteria for what to keep: any garments that were ripped, stained or hadn't been worn in a year were set aside.
3)   Love it. From what remained, Jenny kept only the clothes that made her feel great or which she wore regularly, like her gardening grubbies.
4)   Separate & Store. We separated the remaining clothes into winter and summer wear, boxed up and labeled the warm weather garments and stored them safely away for next summer.
5)   Re-shelve. Without the additional clothes, there was plenty of space for Jenny's seasonal wardrobe. And, as a bonus, she knew the closet was full of seasonal clothes that made her feel like a million dollars.
6)   Pass it on. Clothes Jenny no longer needed were donated, sold or added to the textile bin at her local recycling.
7)   Celebrate: Jenny celebrated her success every morning when she quickly and efficiently found clothes for the day that fit, looked great and were perfect for the season.
This simple seven step solution works no matter how many clothes you have. It also gives you a chance, twice each year, to ask, "Does it fit? Does it make my heart sing? And, do I love it enough to rent it space in my closet?"
Happy Organizing!
Posted by suevenman on Feb 14, 2014
I thought I'd
add my two (chocolate covered) cents to the Valentine's Day hoopla by expressing why I love organizing. If you don't love (or at least like) organizing, consider this Love Fest countdown:
14) You'll impress your friends, family and neighbors.
I know, it's a pretty lame place to start (that's why it's #14); but praise is so satisfying.
13) Knowing your V.I.P.s (Very Important Papers) are in order and accessible.
This one should probably be higher on my list of favorites; but it's just not that sparkly, which is also why it's a tough one to tackle. Just think of the relief knowing that if you need your passport, you can not only find it quickly, but it's even up to date! You never know when someone is going to invite you on an all expenses paid trip to Paris. Best to be prepared.
12) Lose weight.
I don't know of any studies that actually link weight loss with decluttering, but I've seen it happen time and again. Maybe it's the hauling and lifting, or maybe it's signaling your subconscious that it's okay to let go.
11) Strengthen your life purpose.
This one's a little out there, but I ask you, how can you figure out what your life's about when you spend all your free mental and physical energy trying to stay on top of the chaos?
10) Uncover hidden talents.
There's real truth in theory that we knew who we were and what we wanted to be when we were 10. And then life happened and we lost our "I am" amidst the "You should." When you organize your life you uncover puzzle pieces of your whole self – pieces that will remind you of who you wanted to be when you grew up. It's never too late.
9) Find long-lost treasures.
Ever wonder what happened to that beautiful vase you bought years ago, or the photo album of your honeymoon you labored over? Chances are it's in the house … somewhere. Wouldn't it be nice to invite your treasures back where you can truly appreciate them?
8) Focus on what you really want to do.
Clutter has a loud voice that drowns out all other voices, especially that small voice inside you that would really like to express what it wants and needs.
7) Save money.
Buying duplicates ("I know it's there someplace"), paying late fees, losing – rather than using dollars-off coupons, eating out rather than cooking in add up to dollars and cents quickly.
6) Save time.
If you could have back all of the time you've spent this past year looking for your shoes, your wallet or your keys, how would you spend that precious time?
5) Free up more energy for the things and people you love.
Once you're freed from the tyranny of chaos, you have so much more energy to devote to doing the things you love with the people you love.
4) Open your home to company (without cringing).
Oh, how well I know the fear of the knock on the door. Organizing doesn't guarantee that you'll never experience the cringe-factor. But if guest happen to arrive on a bad-entryway-day, just show them your junk drawer. That'll impress 'em!
3) Be less stressed.
Need I say more?
2) Love where you live.
What would it be like to walk into your house after a long day at work and sigh a deep sigh of contented bliss? Your home is your sanctuary, not your compost heap.
And finally … drum roll, please …
1) Make more of yourself available.
When you're overwhelmed by too much stuff, the stuff begins to define who you are, what you do and why you do it. And let's face it, you're a unique and pretty special human being, and the world needs more of you. So, get organized and strut your stuff!
Here's to your loving, lovely Valentine's Day!
Posted by suevenman on Dec 13, 2013
Greetings from icy, sleety, snowy Vermont!
This week, I want to respond to a question I received about holiday giving. "What can I do when I know that the people I am trying to find gifts for already have way too much stuff?"
What a great question! Thank you for the chance to expand on last week's post.  Remember the ads that declared, "For the man who has everything..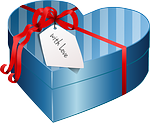 ." and then tried to sell you some expensive gadget as a measure of the love you have for him? If he has everything then does he really need more stuff? Isn't there a better way to express your love and appreciation? Read the rest of this entry »
Posted by suevenman on Dec 6, 2013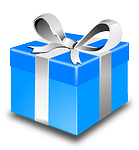 You still have time to try this holiday tip. It's something that I thought about a lot as countries from throughout the world gathered in November in Warsaw for the United Nations Conference on Climate Change. My tip is about making re-gifting a great thing to do for your loved ones and the planet.
I just finished reading a wonderful book that was given to me by a client who had finished reading it, didn't plan to read it again and enthusiastically passed it on to me.
It turns out that this book is on a good friend's book group reading list for 2014 and I drew her name in a Secret Santa Swap. I know that in the past giving her this well-read copy would have been considered a cheapskate move – giving a present of lesser value than a brand new copy. But I propose we rethink this perspective. Why is a brand new copy better than one that is gently loved? Read the rest of this entry »
Posted by suevenman on Oct 30, 2013
I love Hallowe'en. I love the costumes. I love the mystery. And face it, I love the candy. My husband hid our stash so I wouldn't consume every tasty morsel before the 31st. But I've found it (don't tell him) and have been nibbling away; so much for losing those 5 pounds.
Between bites, my Hallowe'en musings lead me to ponder masks. In my organizing work, I often see how our cluttered-selves mask our real-selves. I frequently hear, "I'll get to that (really important, but scary and self-revealing) project once I clean out the garage (or closet or attic)."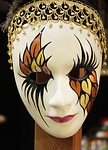 It's easy to hide behind the clutter in our lives. Read the rest of this entry »
Posted by suevenman on Sep 19, 2013
The cold wind doth blow, and we shall have snow, and what will poor robin do then, poor thing? ~ English Children's Rhyme
Let's continue last week's Seasonal Swap theme with a look at household items, other than clothes, that we store when warm afternoons turn into frosty nights.
Gone are the days when we replaced cotton or rattan floor coverings with warm wool carpets. But we still need storage for lawn furniture, air conditioners and those cute little garden gnomes that don't like the snow. The good news is that each swap comes with the opportunity to get clearer about what goes where (admittedly, I might be the only one in the room who thinks of this as good news).
Posted by suevenman on Sep 12, 2013
Since we're at that time of the year when the weather is rapidly changing, I decided to revisit the seasonal clothes discussion.
Last week I worked with a client, Jenny, clearing out a long-neglected closet. At the back, squashed between a couple of summer dresses and a pair of ski pants, was a favorite jacket she thought she'd lost. It was like a reunion with a favorite college roommate. But as Jenny had just purchased an expensive replacement, she was a bit irked. To avoid this unnecessary frustration in the future I suggested she adopt the seasonal swap.
Nowadays lots of folks don't store away off-season clothes, choosing instead to leave everything in their drawers and closets regardless of whether they are currently wearing them. But for more ease in your daily life (and to lessen the chances of losing favorite garments), I suggest trying out the seasonal swap. It's a delight to reach into your closet and actually be able to wear anything you see and touch.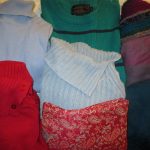 Read the rest of this entry »
Posted by suevenman on Sep 5, 2013
With September comes a lot more than colored leaves. Summer recess gives way to team sports, extracurricular activities and a myriad of meetings. When life feels like it's going to run you over, a little organization goes a long way.

One memorable fall, each of my five daughters was on a different sports team. This meant five separate practices on five separate fields with five game schedules to coordinate and, hopefully, attend. My job (if I wished to accept it) was to make sure they had rides to and from, clean uniforms for games, healthy snacks before practice and somehow fit in homework and piano practicing. I also needed to prepare dinner in advance so we could eat before everyone fell apart and hope against hope that I didn't forget to pick one of them up along the way.
Posted by suevenman on Aug 29, 2013
"Summertime, and the livin' [was] easy."~ Porgy and Bess
I had my first sighting of fall colors the other day. No matter when they show up, it's always too soon.
As summer days decline and back-to-school sales start to look a bit frayed around the edges, I ask what summer treasures I want to bring forward into the cooler weather. I have the pickles and salsa I canned earlier this month to remind me of vine-ripened freshness. But what warm-weather-ways might brighten my spirit as the days grow short? Read the rest of this entry »
Posted by suevenman on Aug 15, 2013
With only 10 minutes here and 15 minutes there, the closet clean-out seemed like it would never get done. But blouse by blouse, hanger by hanger, I cleaned it out, sorted
through and reorganized the clothes so that I could once again access the clothes I need.
It all began yesterday, when I went to put away a clean basket of laundry, more than half of which needed to be hung. After using up the 3 available hangers (where did all those hangers go that used to hold up these garments?), I got frustrated and left the laundry in the basket on the floor. Read the rest of this entry »