Posted by suevenman on Apr 30, 2014
Not long ago, I was working with a decluttering client named Sophie. As we were closing our session, Sophie spent an exhaustive 10 minutes listing her overabundance of commitments: board meetings, her daughter's Bat Mitzi, a large vegetable garden, a book group … It was the list that would never end.
Among her many commitments was Venus the turtle. A beloved childhood pet of first a nephew and then her daughter, Venus now basically lived forgotten in a corner terrarium by everyone, except my guilt-laden client. Venus didn't demand much. But for my client, turtle care felt like that one-too-many-straws the camel dreads.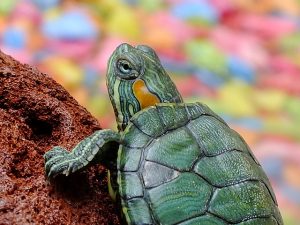 Clients are well used to my suggesting re-homing when something is no longer used or loved. I make regular trips to the Hospice thrift store – dropping off boxes of give-away items in good shape for clients who don't have time to make the trip. I love the win-win-win: clients get more space, purchasers get good, low cost stuff and Hospice gets much needed funds.
Occasionally, when a client gets rid of an item which I know someone specifically needs, I'll ask permission to deliver it. A very snazzy dog leash is still being gratefully used in its re-home. An iron which had seen better days was re-homed at a crafts collective for melting batik wax.
But I think we topped the charts last week.
Sophie and I had finished working. On my way out the door I mentioned a friend who not only loves turtles but is the region's turtle expert. Sophie gave me the go-ahead to ask if he knew anyone who might offer Venus her next loving home.
The timing was miraculous: the best friend of a daughter of a neighbor had been asking for a water turtle for months, and her birthday was the following Saturday! My turtle-expert friend had been searching, but the girl's parents had given up hope of finding a turtle in time.
The email I received the other day was as good as it gets. The birthday girl had wished for a boy turtle named Fred. And it turns out that Venus was exactly that! Good-bye Venus, hello Fred! That's what happens when you have a turtle expert on board.
When you look around your space, what do you see that could be re-homed? One person's trash is another person's treasure. Or, one person's Venus is another person's Fred!
Happy re-homing (with gratitude to Joanna).
P.S. Fred's new family is thrilled.
Posted by suevenman on Apr 17, 2014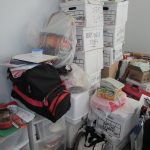 There are times of the year when my garage-barn (affectionately called the barnarge or the garn) looks like a Salvation Army warehouse. I have boxes of books for the library sale, bags of old towels waiting until my travels take me past our local animal shelter, a bag of torn and stained clothing for the recycle textile bin, clothing in good shape to donate to either the hospice thrift shop or the church yard sale. I'm fortunate to have a tolerant husband and plenty of storage space; but the stuff still backs up like traffic on the GW Bridge at Thanksgiving.
After working so hard to clear and declutter, it's discouraging to see bags and boxes clogging up the barnarge, basement or back porch. Transporting the no-longer-needed stuff to its donation destination is definitely a dastardly dilemma.
But it can be done. Here are strategies that have worked for clients:
Enlist your partner, spouse or driving-age child to be the official Transporter-of-Goods (capitalizing always make titles look official). You sort and separate items by donation site; the designated Transporter hauls them away.
Team up with a De-Clutter-Buddy. You may not have a large enough load to justify a trip to Experienced Goods, but when you add your De-Clutter-Buddy's donation, bingo! I had one client who planned a monthly donation run with her De-Clutter-Buddy. They'd load up the car with their accumulated items, make the rounds of donation sites and then reward themselves with a lunch out.
Call the donation site to see if they provide pick-up services, especially if you have furniture or a large volume of items in good shape. And having a pick-up date on the calendar is a great motivator.
Schedule a neighborhood yard sale. Have each household contribute $10 toward advertizing expenses. Whatever money is left goes to the neighbor who either starts with the most or finishes with the least stuff.
Set a goal to get rid of 100 things a month. Reward yourself with a night on the town or a day of lazing in the hammock.
What works with your dastardly donation dilemmas? Share your suggestions on the Breathing Space blog page.
Happy donating!
Posted by suevenman on Mar 28, 2014
You've sorted the stuff and separated the Keeps from the Gotta–Goes. You're left with a box of puzzling pieces which, in the right hands, could have a useful second life. But where do you find those hands? This was the conundrum facing Cynthia and me during our organizing session last week.
Among the items under consideration were several Styrofoam coolers in which frozen meats were shipped, a bag of fabric scraps from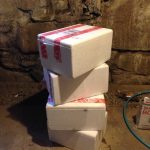 Cynthia's quilting days, a working 5-year-old printer and a box of frayed but serviceable towels.
It took some research and several calls, but we found that Meals on Wheels could use the coolers to keep drop-off meals warm. The quilting scraps and printer found homes at the Senior Center and the animal shelter took the towels. Success!
Letting go becomes so much easier when you know that a once-useful item is needed by someone else. We all have our favorite donation sites. But now and then I come across something I've never tried to find a home for, such as the Styrofoam coolers.
In times like this, I turn to my stuff guru, Sue Anderson. Sue runs an online service called The Stuff Stop. The byline says it all: Where your unwanted stuff meets a need. Sue seeks out donation requests from a variety of organizations; from a nonprofit that provides free Hallowe'en costumes to underprivileged children, to a birding club in need of binoculars (of which I have 5 pair – Mom was a birder). You can search by state or by item. At this writing, there are no donation sites listed in Vermont. Perhaps that will change when you let your favorite nonprofits know about this great opportunity.
The Stuff Stop is the definition of Win-Win-Win: you win when you lighten your life, agencies win when they receive items they truly need, and Mother Earth wins when less of our stuff ends up in landfills. Thanks, Sue!
Next week: Getting donation items from your garage to the people who really need them.
And, if you're wondering what to do with your Styrofoam coolers, check out these links which Sue recommended: