Posted by suevenman on Mar 6, 2017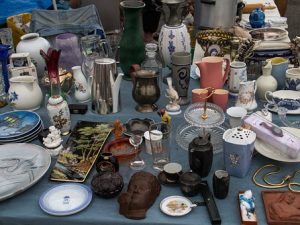 When you've lived in one house for most of your life, you accumulate an interesting and varied collection of stuff. But when it's time to downsize, figuring out what to keep and what to let go can be brutal.
Beth and Jim, a couple in their early 70's, called Breathing Space for help downsizing. After sorting through the contents of one corner of their basement, they had a pile of items they no longer needed. But because many of the items either had value or were potentially useful, Jim and Beth had difficulty letting them go.
Looking around for a way to motivate this next step, I remembered seeing pictures of a young child in their living room. When I asked if she was a grandchild, they smiled and nodded, saying Casey was, "as precious as any grandchild." Beth and Jim met her through the Fresh Air Fund and she'd been part of their family every summer for almost a decade.
Their love of this "granddaughter" gave me an idea. I asked, "What inspired you to open your home and your lives to a stranger?" At first, they were puzzled. Then they reflected, "We are so grateful for our family and the beauty around us. They've taught us that when love is shared, it grows. Inviting Casey into our family was a no-brainer."
I then asked them to reassess the basement pile in light of the values which brought Casey into their lives: gratitude, service, beauty and generosity. Seen through the light of these values, the pile took on a different meaning. Jim and Beth realized that the items in question could make a big difference in other peoples' lives. In this light, letting go of the pile became a reflection of their values.
By reminding us what we hold most dear in our lives, our values help us identify what is important to keep and what we can let go of. We clarify and strengthen our values by reinforcing them in this way. And when we're faced with tough decisions, using our values as a lens helps us stay aligned with our truest selves.
If you're stuck trying to decide whether to keep or let go of an item, ask yourself these questions:
1.   Do I use it?
2.   Do I love it?
3.   Is it a treasure
4.   Does it reflect my values?
Curious what Jim and Beth did with their pile? Stay tuned: you'll find out next week!
And if you're interested in exploring your individual values, take the questionnaire VIA Survey of Character Strengths on the Authentic Happiness site. The results may surprise you! But a value identified is a value worth living!
Happy Organizing!
Posted by suevenman on Apr 17, 2014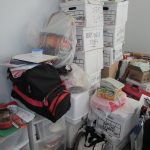 There are times of the year when my garage-barn (affectionately called the barnarge or the garn) looks like a Salvation Army warehouse. I have boxes of books for the library sale, bags of old towels waiting until my travels take me past our local animal shelter, a bag of torn and stained clothing for the recycle textile bin, clothing in good shape to donate to either the hospice thrift shop or the church yard sale. I'm fortunate to have a tolerant husband and plenty of storage space; but the stuff still backs up like traffic on the GW Bridge at Thanksgiving.
After working so hard to clear and declutter, it's discouraging to see bags and boxes clogging up the barnarge, basement or back porch. Transporting the no-longer-needed stuff to its donation destination is definitely a dastardly dilemma.
But it can be done. Here are strategies that have worked for clients:
Enlist your partner, spouse or driving-age child to be the official Transporter-of-Goods (capitalizing always make titles look official). You sort and separate items by donation site; the designated Transporter hauls them away.
Team up with a De-Clutter-Buddy. You may not have a large enough load to justify a trip to Experienced Goods, but when you add your De-Clutter-Buddy's donation, bingo! I had one client who planned a monthly donation run with her De-Clutter-Buddy. They'd load up the car with their accumulated items, make the rounds of donation sites and then reward themselves with a lunch out.
Call the donation site to see if they provide pick-up services, especially if you have furniture or a large volume of items in good shape. And having a pick-up date on the calendar is a great motivator.
Schedule a neighborhood yard sale. Have each household contribute $10 toward advertizing expenses. Whatever money is left goes to the neighbor who either starts with the most or finishes with the least stuff.
Set a goal to get rid of 100 things a month. Reward yourself with a night on the town or a day of lazing in the hammock.
What works with your dastardly donation dilemmas? Share your suggestions on the Breathing Space blog page.
Happy donating!
Posted by suevenman on Mar 28, 2014
You've sorted the stuff and separated the Keeps from the Gotta–Goes. You're left with a box of puzzling pieces which, in the right hands, could have a useful second life. But where do you find those hands? This was the conundrum facing Cynthia and me during our organizing session last week.
Among the items under consideration were several Styrofoam coolers in which frozen meats were shipped, a bag of fabric scraps from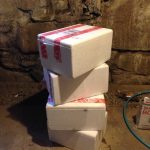 Cynthia's quilting days, a working 5-year-old printer and a box of frayed but serviceable towels.
It took some research and several calls, but we found that Meals on Wheels could use the coolers to keep drop-off meals warm. The quilting scraps and printer found homes at the Senior Center and the animal shelter took the towels. Success!
Letting go becomes so much easier when you know that a once-useful item is needed by someone else. We all have our favorite donation sites. But now and then I come across something I've never tried to find a home for, such as the Styrofoam coolers.
In times like this, I turn to my stuff guru, Sue Anderson. Sue runs an online service called The Stuff Stop. The byline says it all: Where your unwanted stuff meets a need. Sue seeks out donation requests from a variety of organizations; from a nonprofit that provides free Hallowe'en costumes to underprivileged children, to a birding club in need of binoculars (of which I have 5 pair – Mom was a birder). You can search by state or by item. At this writing, there are no donation sites listed in Vermont. Perhaps that will change when you let your favorite nonprofits know about this great opportunity.
The Stuff Stop is the definition of Win-Win-Win: you win when you lighten your life, agencies win when they receive items they truly need, and Mother Earth wins when less of our stuff ends up in landfills. Thanks, Sue!
Next week: Getting donation items from your garage to the people who really need them.
And, if you're wondering what to do with your Styrofoam coolers, check out these links which Sue recommended:
Posted by suevenman on Feb 19, 2014
Marge, a 60-something professional with a Masters in Social Work sought my help to get through a difficult organizing project. Despite years of guiding people as they made tough decisions, she was overwhelmed with all the decisions she needed to make as she cleaned out her late mother's attic.
We cut through much of Marge's overwhelm by following the organizing steps I laid out in my January posts (if you missed them, scroll down to the January posts, starting with January 10th).
Following these steps, we divided the contents of the attic's 50-plus boxes into piles: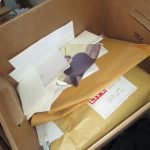 Keep
Donate
Throw Out or Recycle
Don't Know
Later, as we were hauling out the accumulated pile of garbage, I picked up a cardboard box that had been thrown into the pile before I arrived. From the denominations of the stamps in its corner, it had clearly been around for a while. I asked Marge if she'd been through the box. She dismissed it saying it was full of cards and letters her mother had received from her grandchildren in the 80's and 90's.
A light bulb went off in my head: Teaching Opportunity!
I set the box aside until we had a dust-free moment (which accompanied a cool and very welcome glass of iced tea). I pulled out the box and suggested to Marge that when we're faced with the difficult task of figuring out what to do with someone else's possessions, one of the questions we need to ask about each piece we encounter (except the frayed dish towels and the 60 years of collected National Geographics) is, Whose story does this tell?
Most of the time, stuff is just stuff. But now and again, stuff tells a story. If it's your story: I won this vase at the State Fair and gave it to Mom for her birthday, then you get to decide what to do with it. But if it's someone else's story: for example, cards and letters from beloved grandchildren, then deciding what to do with the item in question is not your job. What is your job is reconnecting the stuff with the storyteller.
Sorting through another person's possessions is a huge, and not always welcome responsibility. Asking the simple question, Whose story does this tell? breathes space into the task, and with the space, a bit more clarity.
Hats off to those of you facing this daunting job.
Posted by suevenman on Sep 27, 2013
Last Saturday I did something that I've warned many of you never to do: I held a tag sale.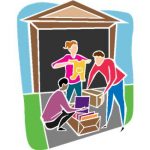 Also known as a yard, garage, rummage or boot sale (as in the English "car boot" or trunk), I have repeatedly cautioned you not to spend time and energy on something that will likely only net you a couple hundred dollars. And yet, there I was, up at the crack of dawn, hauling out boxes of books and vinyl records, house wares, blankets and comforters, furniture and more decorative tchotchkes than even Yankee Candle could find room for.
So, why did I do it?