Posted by suevenman on Jul 25, 2013
Every summer I bring my houseplants outside ~ Plant Camp, my sister calls it. And every fall, before the first frost, I bring them back in. I then spend the winter combating mealy worms and creeping cotton (or whatever it's called). I've fought the good fight for years. The score is Mealy Worms ~ 100; Sue ~ zip.
So, I've made the boldest decluttering decisions of my life: I've decided to rid my house of bug-infested plants. Even the jade that I nurtured from a wee tiny cutting is now compost. It was drastic. It was harsh. I'm sure that I'll get emails telling me how I could have conquered creeping crud. I'm sure my dreams will be haunted by flying Spider Plants and Swedish Ivies. But I'm willing to risk being given the evil eye by plant lovers. Read the rest of this entry »
Posted by suevenman on Jun 21, 2013
"Double your pleasure, double your fun!" ~ Gum jingle

Apparently, it's Opposites Week (a much neglected celebration of the absurd). In my last post I stated, "Less is (almost always) more." This week, I'm forced by circumstance and integrity to also affirm the opposite: Less isn't always more. Sometimes it's just less. And sometimes less is really inconvenient.
Last week I began work with a young woman I'll call Diane. Diane lives vertically in a 4-floored half-a-house. With an office on the top floor, bathroom on the second, entryway and kitchen on the first and backyard access from the basement, Diane is up and down her stairs dozens of times each day.
Posted by suevenman on May 9, 2013
Hiatus: "Any opening, break or interruption of continuity."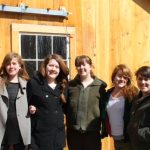 My hiatus from tip writing began with a 2-week visit from my middle daughter. As she hadn't been out east for a couple years, her visit became a 2-week daughter-fest. This was followed by a succession of one-time, time-consuming events, ending last week with magnificent performances of the Bach Mass in B Minor by my chamber chorus.
All were wonderful and fun and joyous reasons to interrupt my normal weekly rhythms. And as I emerge from the last six weeks of delightful disruption, I ponder how to stay on track when events – whether joyous, difficult, sad or just annoying –disrupt the flow of living. Read the rest of this entry »
Posted by suevenman on Mar 8, 2013
What to do with your V.I.P.s ~ Your Very Important Papers
In honor of tax time, I've been running a series on managing paperwork. The amount of paper we receive through snail mail, our kids' schools and our own work has far outstripped our ability to deal with it. Every one of us needs a personal assistant to handle processing and filing!
In the last two posts I reviewed guidelines for what financial and medical papers to keep and for how long. If you missed any of the series, just scroll down and you'll find them. Today's topic is identifying and properly storing your VIPs ~ your Very Important Papers. Read the rest of this entry »
Posted by suevenman on Feb 20, 2013

In my last post in the series, "What the heck you do with all that paper?" I reviewed the keep vs. shred guidelines for financial papers. I heard from a couple of you about special circumstances where my advice wasn't 100% accurate; self employment being one. So, my caveat: if you have special situations, please consult your accountant.
This week we're tackling which medical records you need to keep. Every visit to the doctor, pharmacy transaction and insurance payment generates paper. Most of these papers end up either in the trash (often unopened) or in the nearly-toppling-over-figure-out-or-file-pile. So, here's the plan: Read the rest of this entry »
Posted by suevenman on Feb 18, 2013
Paper Tip #1:
What Financial Papers to Keep
About this time every year (this time meaning tax season) I like to run a series on dealing with paper. For most of us, the amount of paper we handle on a day to day basis far exceeds our ability to manage it. It is, by far, the biggest issue faced by Breathing Space clients and readers. So trust me, you're not alone if you feel as though you're about to be buried by a mountain of paper.
Often I hear from clients some version of, "I have an attic full of old checks and financial papers. How long do I have to keep them?" Read the rest of this entry »
Posted by suevenman on Jun 5, 2012
My self-imposed come-to-Jesus talk last week must have done the trick. As you can see by these pictures, I finally started the hands-on decluttering my barn.
The steps I took to organize my yarns were similar to those outlined by Joanna (the founder of Breathing Space) in her book, Decluttering 101, with a few tweaks to fit this project. I hope that those non-knitters among you will be able to translate these steps into other organizing projects that involve sorting materials of various kinds. Read the rest of this entry »