Posted by suevenman on Feb 19, 2014
Marge, a 60-something professional with a Masters in Social Work sought my help to get through a difficult organizing project. Despite years of guiding people as they made tough decisions, she was overwhelmed with all the decisions she needed to make as she cleaned out her late mother's attic.
We cut through much of Marge's overwhelm by following the organizing steps I laid out in my January posts (if you missed them, scroll down to the January posts, starting with January 10th).
Following these steps, we divided the contents of the attic's 50-plus boxes into piles: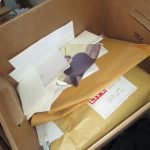 Keep
Donate
Throw Out or Recycle
Don't Know
Later, as we were hauling out the accumulated pile of garbage, I picked up a cardboard box that had been thrown into the pile before I arrived. From the denominations of the stamps in its corner, it had clearly been around for a while. I asked Marge if she'd been through the box. She dismissed it saying it was full of cards and letters her mother had received from her grandchildren in the 80's and 90's.
A light bulb went off in my head: Teaching Opportunity!
I set the box aside until we had a dust-free moment (which accompanied a cool and very welcome glass of iced tea). I pulled out the box and suggested to Marge that when we're faced with the difficult task of figuring out what to do with someone else's possessions, one of the questions we need to ask about each piece we encounter (except the frayed dish towels and the 60 years of collected National Geographics) is, Whose story does this tell?
Most of the time, stuff is just stuff. But now and again, stuff tells a story. If it's your story: I won this vase at the State Fair and gave it to Mom for her birthday, then you get to decide what to do with it. But if it's someone else's story: for example, cards and letters from beloved grandchildren, then deciding what to do with the item in question is not your job. What is your job is reconnecting the stuff with the storyteller.
Sorting through another person's possessions is a huge, and not always welcome responsibility. Asking the simple question, Whose story does this tell? breathes space into the task, and with the space, a bit more clarity.
Hats off to those of you facing this daunting job.
Posted by suevenman on Dec 13, 2013
Greetings from icy, sleety, snowy Vermont!
This week, I want to respond to a question I received about holiday giving. "What can I do when I know that the people I am trying to find gifts for already have way too much stuff?"
What a great question! Thank you for the chance to expand on last week's post.  Remember the ads that declared, "For the man who has everything..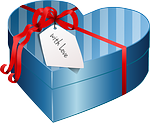 ." and then tried to sell you some expensive gadget as a measure of the love you have for him? If he has everything then does he really need more stuff? Isn't there a better way to express your love and appreciation? Read the rest of this entry »
Posted by suevenman on Sep 5, 2013
With September comes a lot more than colored leaves. Summer recess gives way to team sports, extracurricular activities and a myriad of meetings. When life feels like it's going to run you over, a little organization goes a long way.

One memorable fall, each of my five daughters was on a different sports team. This meant five separate practices on five separate fields with five game schedules to coordinate and, hopefully, attend. My job (if I wished to accept it) was to make sure they had rides to and from, clean uniforms for games, healthy snacks before practice and somehow fit in homework and piano practicing. I also needed to prepare dinner in advance so we could eat before everyone fell apart and hope against hope that I didn't forget to pick one of them up along the way.
Posted by suevenman on Aug 21, 2013
Ready or not, the new school year's here!
I can almost hear the groans – from you parents! Getting the kids up and off; arranging for after school care for the little ones; trying to remember which kid is supposed to be at what after school activity when; and then, perhaps the toughest of the difficult-to-swallow pills, homework.
In her delightful article in the Washington Post, Nicole Anzia has some great suggestions for creating a homework space that smooths out some of the bumps along the homework highway. Even if you don't have school age kids, her ideas can be used for setting up an out-of-the-office office space. Read the rest of this entry »
Posted by suevenman on Jun 28, 2013
Today is my father's 82nd birthday. Instead of the sharing an organizing tip with you this week, I'm celebrating his well-lived life with words from a plaque which h
as hung over his desk for as long as I can remember. The words inspired his parenting, and continue to inspire my own as my children grow into adulthood. But speak about more than parenting: they are guides to living a life of dignity, honor and self-respect: something Dad has done, and is doing, very well. Read the rest of this entry »
Posted by suevenman on Jun 13, 2013
"The ability to simplify means to eliminate the unnecessary so that the necessary may speak." ~Hans Hofmann

A while ago I was working with a young mom whom I'll call Linda. Linda asked me a question which I hear at least every week, if not every day, "How much stuff is the right amount?"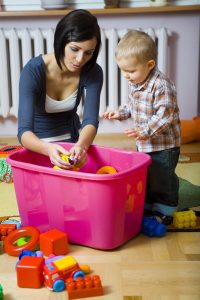 At the time, we were talking about her 3 year old son (I'll call him Timmy).  Toys, craft materials and children's books were taking over the kitchen, the living room, the dining room, the den, as well as Timmy's bedroom. You couldn't walk through a room without stepping on a Lego or a stuffed animal. It was making the whole family pretty cranky. These young parents wanted to provide as rich an environment as possible for their young son, but knew that something wasn't working. Read the rest of this entry »