Posted by suevenman on Mar 6, 2017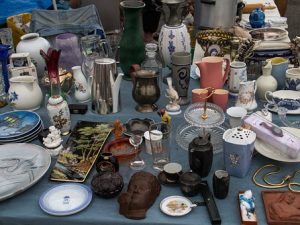 When you've lived in one house for most of your life, you accumulate an interesting and varied collection of stuff. But when it's time to downsize, figuring out what to keep and what to let go can be brutal.
Beth and Jim, a couple in their early 70's, called Breathing Space for help downsizing. After sorting through the contents of one corner of their basement, they had a pile of items they no longer needed. But because many of the items either had value or were potentially useful, Jim and Beth had difficulty letting them go.
Looking around for a way to motivate this next step, I remembered seeing pictures of a young child in their living room. When I asked if she was a grandchild, they smiled and nodded, saying Casey was, "as precious as any grandchild." Beth and Jim met her through the Fresh Air Fund and she'd been part of their family every summer for almost a decade.
Their love of this "granddaughter" gave me an idea. I asked, "What inspired you to open your home and your lives to a stranger?" At first, they were puzzled. Then they reflected, "We are so grateful for our family and the beauty around us. They've taught us that when love is shared, it grows. Inviting Casey into our family was a no-brainer."
I then asked them to reassess the basement pile in light of the values which brought Casey into their lives: gratitude, service, beauty and generosity. Seen through the light of these values, the pile took on a different meaning. Jim and Beth realized that the items in question could make a big difference in other peoples' lives. In this light, letting go of the pile became a reflection of their values.
By reminding us what we hold most dear in our lives, our values help us identify what is important to keep and what we can let go of. We clarify and strengthen our values by reinforcing them in this way. And when we're faced with tough decisions, using our values as a lens helps us stay aligned with our truest selves.
If you're stuck trying to decide whether to keep or let go of an item, ask yourself these questions:
1.   Do I use it?
2.   Do I love it?
3.   Is it a treasure
4.   Does it reflect my values?
Curious what Jim and Beth did with their pile? Stay tuned: you'll find out next week!
And if you're interested in exploring your individual values, take the questionnaire VIA Survey of Character Strengths on the Authentic Happiness site. The results may surprise you! But a value identified is a value worth living!
Happy Organizing!