Posted by suevenman on Nov 7, 2014
Along with the first frost o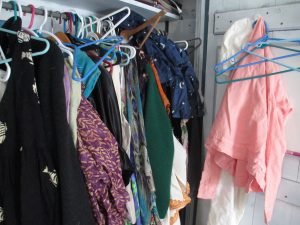 f the season comes my perennial hunt for turtlenecks, wooly socks and cozy sweaters. I found my shirts in the back of a drawer where I'd shoved them last spring to make room for t shirts. The socks had remained in the unsorted sock box because there'd been no room in my dresser. And I found the sweaters in the closet, wedged between a dress I'd worn to my 40th birthday party and a lime green linen jacket, complete with shoulders pads. This year, I promised, I'd follow my own, best advice.
My clothes hunt reminded me of my client Jenny. Jenny has plenty of clothes, but can never find anything to wear. She lives in an old farmhouse built in the days when tiny closets easily accommodated your Sunday Best and a couple changes of weekday wear. But Jenny has more than a Sunday Best: she has summer and winter versions of her professional garb, leisure wear and a couple dozen pants, blouses and vests, all crammed into a space the size of a diminutive dollhouse.
Jenny's morning search for an acceptable outfit became an exercise in frustration akin to finding a parking space in Manhattan. All Jenny wanted was to easily find the clothes she needed when she needed them, without plowing through ski wear, beach wear and her daughter's prom dress from 2005.
Sounds familiar? Unless you have endless closet and drawer space, you've likely dealt with this organizing issue. Here's a simple seven step solution to Jenny's dastardly dressing dilemma: it's called the Seasonal Swap.
1)   Clear. We took everything out of Jenny's drawers and closets.
2)   Sort. We set criteria for what to keep: any garments that were ripped, stained or hadn't been worn in a year were set aside.
3)   Love it. From what remained, Jenny kept only the clothes that made her feel great or which she wore regularly, like her gardening grubbies.
4)   Separate & Store. We separated the remaining clothes into winter and summer wear, boxed up and labeled the warm weather garments and stored them safely away for next summer.
5)   Re-shelve. Without the additional clothes, there was plenty of space for Jenny's seasonal wardrobe. And, as a bonus, she knew the closet was full of seasonal clothes that made her feel like a million dollars.
6)   Pass it on. Clothes Jenny no longer needed were donated, sold or added to the textile bin at her local recycling.
7)   Celebrate: Jenny celebrated her success every morning when she quickly and efficiently found clothes for the day that fit, looked great and were perfect for the season.
This simple seven step solution works no matter how many clothes you have. It also gives you a chance, twice each year, to ask, "Does it fit? Does it make my heart sing? And, do I love it enough to rent it space in my closet?"
Happy Organizing!