Posted by suevenman on Jun 19, 2014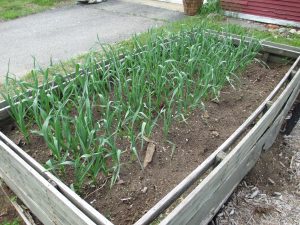 Last November I posted a piece on planting garlic bulbs. An odd topic for a coach-organizing blog? Perhaps.  But the lesson that "cropped" up was more organizational than culinary: time spent culling and organizing in the present saves time, energy and frustration in the future.
Examples of this age-old lesson abound. A short amount of time nesting flower bulbs in the autumn soil results in a spring bouquet of color; working out regularly helps insure healthy, happy years to come; and money invested wisely in the first decade of your career grows into a robust retirement portfolio. Similarly, the time you spend organizing results in time saved and frustration averted in the days and weeks to follow.
Last week a client lamented that her family teased her for "wasting time" alphabetizing her herbs and spices. Yet the 15 minutes it took her to put the jars in order saved her the familiar frustration of digging through the jumble of jars in her cupboard for the oregano, marjoram or dill. Did she save hours and hours? Not in the short run. But over time, a few minutes here and a few minutes there add up. And personally, I'd rather be spend time digging in my garden than digging through my cupboards for more thyme.
My garlic is growing beautifully: a testament to careful spacing (which is a code word for organizing). But few things stay organized forever. I've already weeded the bed twice. If I ever thought that gardening was a "plant-grow-harvest" proposition, without commas in-between for weeding, then I was sorely deluding myself.
Once and done is an organizing myth. Whether it's putting the herb jars back in order, a quick re-sort of your top desk drawer to pare down the pencils that have reproduced in the dark, or the relentless battle against junk-drawer-creeping-chaos, every organizing project needs occasional restoration and maintenance. If you find an exception to this rule, please notify me immediately.
The trick is not to let the garlic, herbs, desk or junk drawer devolve to their former states. When you notice that something is out of order, it takes just seconds to return it to its proper place. But if you ignore this necessary maintenance and wait until you can no longer find the safe deposit key, the celery salt or the garlic among the weeds, the 30 seconds becomes an hour of dedicated time that could have been spent reading a good book.
So, whether it's weeding or alphabetizing herbs and spices, maintaining what you've worked so hard to organize is like money in the bank – or garlic in the spaghetti sauce.
Happy summer!
For the next couple months, I'll be revisiting some favorite Joanna posts from years gone by: tips worthy of a second run. Enjoy!