Posted by suevenman on Apr 30, 2014
Not long ago, I was working with a decluttering client named Sophie. As we were closing our session, Sophie spent an exhaustive 10 minutes listing her overabundance of commitments: board meetings, her daughter's Bat Mitzi, a large vegetable garden, a book group … It was the list that would never end.
Among her many commitments was Venus the turtle. A beloved childhood pet of first a nephew and then her daughter, Venus now basically lived forgotten in a corner terrarium by everyone, except my guilt-laden client. Venus didn't demand much. But for my client, turtle care felt like that one-too-many-straws the camel dreads.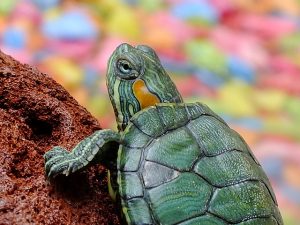 Clients are well used to my suggesting re-homing when something is no longer used or loved. I make regular trips to the Hospice thrift store – dropping off boxes of give-away items in good shape for clients who don't have time to make the trip. I love the win-win-win: clients get more space, purchasers get good, low cost stuff and Hospice gets much needed funds.
Occasionally, when a client gets rid of an item which I know someone specifically needs, I'll ask permission to deliver it. A very snazzy dog leash is still being gratefully used in its re-home. An iron which had seen better days was re-homed at a crafts collective for melting batik wax.
But I think we topped the charts last week.
Sophie and I had finished working. On my way out the door I mentioned a friend who not only loves turtles but is the region's turtle expert. Sophie gave me the go-ahead to ask if he knew anyone who might offer Venus her next loving home.
The timing was miraculous: the best friend of a daughter of a neighbor had been asking for a water turtle for months, and her birthday was the following Saturday! My turtle-expert friend had been searching, but the girl's parents had given up hope of finding a turtle in time.
The email I received the other day was as good as it gets. The birthday girl had wished for a boy turtle named Fred. And it turns out that Venus was exactly that! Good-bye Venus, hello Fred! That's what happens when you have a turtle expert on board.
When you look around your space, what do you see that could be re-homed? One person's trash is another person's treasure. Or, one person's Venus is another person's Fred!
Happy re-homing (with gratitude to Joanna).
P.S. Fred's new family is thrilled.