Posted by suevenman on Apr 24, 2014
Minus the question mark, this was the title of a New York Times Home & Garden article by Penelope Green, which I rediscovered while combing through my files in search of inspiration. Ms. Green discusses the mess-apologist movement in light of David Freedman's clutter treastise, A Perfect Mess: The Hidden Benefits of Disorder. In it, Freedman explores the high cost of neatness and jokes about the country's obsession with decluttering containers.
While I'm not a mess-advocate, I'm also not a clutter-busters-buy-containers groupie. My stance is somewhere in the middle.
For me, it all comes down to whether or not the space you inhabit helps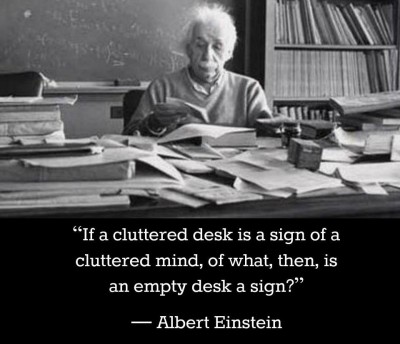 you be who you want to be and do what you want to do. If you're happy in your space, your household isn't rebelling and the fire department hasn't declared your home a hazard, then let it be; even if the Martha Stewarts of the world are tut-tutting.
The degree of acceptable messiness is not about what your mother, your neighbor or your Uncle George consider acceptable. It's all about what allows you to thrive and what helps or hinders a life of joy and serenity.
Now, I'm a very visual person and happiest when surrounded by order and beauty (which is why I have 5 daughters).  I like looking at the spaces I occupy and cherishing what I see. When things get too cluttered I get grumpy and can't think straight.
On the other hand, my husband is very content in his (somewhat messy) study, where he talks with colleagues, works at his computer and gazes out onto the back yard pondering his next garden project; all while happily surrounded by what I consider clutter. To paraphrase Green's article, he's able to find what he needs and be creative amidst the chaos. More power to him.
If you work well in a mess, call it creative clutter and carry on! There are many more important things in the world that need attention. But if you need more order and find that clutter clogs your path to happiness, then by all means, de-clutter, de-clog and de-light in your new space.
It's all about you!