Posted by suevenman on Apr 17, 2014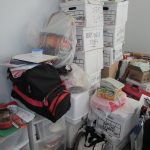 There are times of the year when my garage-barn (affectionately called the barnarge or the garn) looks like a Salvation Army warehouse. I have boxes of books for the library sale, bags of old towels waiting until my travels take me past our local animal shelter, a bag of torn and stained clothing for the recycle textile bin, clothing in good shape to donate to either the hospice thrift shop or the church yard sale. I'm fortunate to have a tolerant husband and plenty of storage space; but the stuff still backs up like traffic on the GW Bridge at Thanksgiving.
After working so hard to clear and declutter, it's discouraging to see bags and boxes clogging up the barnarge, basement or back porch. Transporting the no-longer-needed stuff to its donation destination is definitely a dastardly dilemma.
But it can be done. Here are strategies that have worked for clients:
Enlist your partner, spouse or driving-age child to be the official Transporter-of-Goods (capitalizing always make titles look official). You sort and separate items by donation site; the designated Transporter hauls them away.
Team up with a De-Clutter-Buddy. You may not have a large enough load to justify a trip to Experienced Goods, but when you add your De-Clutter-Buddy's donation, bingo! I had one client who planned a monthly donation run with her De-Clutter-Buddy. They'd load up the car with their accumulated items, make the rounds of donation sites and then reward themselves with a lunch out.
Call the donation site to see if they provide pick-up services, especially if you have furniture or a large volume of items in good shape. And having a pick-up date on the calendar is a great motivator.
Schedule a neighborhood yard sale. Have each household contribute $10 toward advertizing expenses. Whatever money is left goes to the neighbor who either starts with the most or finishes with the least stuff.
Set a goal to get rid of 100 things a month. Reward yourself with a night on the town or a day of lazing in the hammock.
What works with your dastardly donation dilemmas? Share your suggestions on the Breathing Space blog page.
Happy donating!