Posted by suevenman on Mar 28, 2014
You've sorted the stuff and separated the Keeps from the Gotta–Goes. You're left with a box of puzzling pieces which, in the right hands, could have a useful second life. But where do you find those hands? This was the conundrum facing Cynthia and me during our organizing session last week.
Among the items under consideration were several Styrofoam coolers in which frozen meats were shipped, a bag of fabric scraps from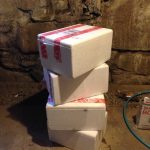 Cynthia's quilting days, a working 5-year-old printer and a box of frayed but serviceable towels.
It took some research and several calls, but we found that Meals on Wheels could use the coolers to keep drop-off meals warm. The quilting scraps and printer found homes at the Senior Center and the animal shelter took the towels. Success!
Letting go becomes so much easier when you know that a once-useful item is needed by someone else. We all have our favorite donation sites. But now and then I come across something I've never tried to find a home for, such as the Styrofoam coolers.
In times like this, I turn to my stuff guru, Sue Anderson. Sue runs an online service called The Stuff Stop. The byline says it all: Where your unwanted stuff meets a need. Sue seeks out donation requests from a variety of organizations; from a nonprofit that provides free Hallowe'en costumes to underprivileged children, to a birding club in need of binoculars (of which I have 5 pair – Mom was a birder). You can search by state or by item. At this writing, there are no donation sites listed in Vermont. Perhaps that will change when you let your favorite nonprofits know about this great opportunity.
The Stuff Stop is the definition of Win-Win-Win: you win when you lighten your life, agencies win when they receive items they truly need, and Mother Earth wins when less of our stuff ends up in landfills. Thanks, Sue!
Next week: Getting donation items from your garage to the people who really need them.
And, if you're wondering what to do with your Styrofoam coolers, check out these links which Sue recommended: