Posted by suevenman on Feb 19, 2014
Marge, a 60-something professional with a Masters in Social Work sought my help to get through a difficult organizing project. Despite years of guiding people as they made tough decisions, she was overwhelmed with all the decisions she needed to make as she cleaned out her late mother's attic.
We cut through much of Marge's overwhelm by following the organizing steps I laid out in my January posts (if you missed them, scroll down to the January posts, starting with January 10th).
Following these steps, we divided the contents of the attic's 50-plus boxes into piles: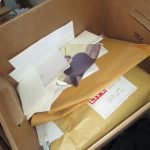 Keep
Donate
Throw Out or Recycle
Don't Know
Later, as we were hauling out the accumulated pile of garbage, I picked up a cardboard box that had been thrown into the pile before I arrived. From the denominations of the stamps in its corner, it had clearly been around for a while. I asked Marge if she'd been through the box. She dismissed it saying it was full of cards and letters her mother had received from her grandchildren in the 80's and 90's.
A light bulb went off in my head: Teaching Opportunity!
I set the box aside until we had a dust-free moment (which accompanied a cool and very welcome glass of iced tea). I pulled out the box and suggested to Marge that when we're faced with the difficult task of figuring out what to do with someone else's possessions, one of the questions we need to ask about each piece we encounter (except the frayed dish towels and the 60 years of collected National Geographics) is, Whose story does this tell?
Most of the time, stuff is just stuff. But now and again, stuff tells a story. If it's your story: I won this vase at the State Fair and gave it to Mom for her birthday, then you get to decide what to do with it. But if it's someone else's story: for example, cards and letters from beloved grandchildren, then deciding what to do with the item in question is not your job. What is your job is reconnecting the stuff with the storyteller.
Sorting through another person's possessions is a huge, and not always welcome responsibility. Asking the simple question, Whose story does this tell? breathes space into the task, and with the space, a bit more clarity.
Hats off to those of you facing this daunting job.