Posted by suevenman on Jan 31, 2014
Get Ready, Get Set, Go!
 The bottom line is, if it's too hard to put something away, you simply won't do it – not because you're lazy, but because you have more important things to do with your time.   ~ Julie Morgenstern
I recently received an email bemoaning the futility of organizing: "I spend all this time cleaning out the junk drawer, but 2 weeks later, it's back where it started – a hellacious mess! How do I stop this vicious cycle?"
The email was well timed, because this week we're finishing up the series, Get Ready, Get Set, Go! which lays out the steps to any organizing adventure.
If you've been following along these past few weeks, you've had drilled into you that, without Planning & Preparing (Step #1), your chances of successfully completing any project is significantly reduced. Once you've completed Step #1, you moved on to Step #2, Clearing & Cleaning, followed by Step #3, Sort & Purge. Each is explained in previous posts. If you missed them, scroll down.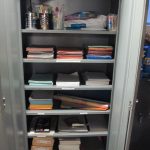 Step #4, Create involves designing the space you've just cleared and cleaned to best accommodate the items that, in Step #3, you determined belong there. The organizing principle, Containerize and Label comes in handy here. The more you can break down larger spaces, like shelves or drawers, into smaller spaces, the easier they will be to maintain. Containerize (I know, it's not a real word) like items in appropriate sized boxes, such as shoe or check boxes, or purchased units designed for this purpose. Once you've created the space, label the containers. This may seem like overkill (and you will get teased), but trust me, labeling spaces increases the chances that the right thing finds its way home to the right space.
You're finally ready for the last Step, #5, Practice. Why practice? Because we all need time to get used to any new system, and until it's been tested, we won't know if it works. If it needs tweaking, so be it; but give it a 3-week trial run before making any drastic changes.
So, there you have it, the, Get Ready, Get Set, Go! of organizing in 5 simple steps. You can download a PDF map of these steps by clicking here.
If you have comments or questions you'd like to share, please do so below.
Next week: Sue's 10 Best Reasons to Get Organized.