Posted by suevenman on Dec 13, 2013
Greetings from icy, sleety, snowy Vermont!
This week, I want to respond to a question I received about holiday giving. "What can I do when I know that the people I am trying to find gifts for already have way too much stuff?"
What a great question! Thank you for the chance to expand on last week's post.  Remember the ads that declared, "For the man who has everything..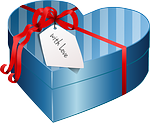 ." and then tried to sell you some expensive gadget as a measure of the love you have for him? If he has everything then does he really need more stuff? Isn't there a better way to express your love and appreciation?
Before you reach for your wallet, consider the reason behind gift giving. It seems to me that the main reason we give gifts is exactly what the ads suggest: to express your love. Most of all we want that deep sense of caring we feel from both giving and receiving; a sense of kindness and appreciation.
But can this happen without stuff? I think so.
Here are some possibilities:
1) Think about the person you are gifting: what are their favorite activities? What are their dreams and aspirations? Now do a bit of research and find a non-profit that relates to who they are and make a donation. Your card to them could include a website or brochure from the organization and a line or two about what you admire in them that sparked the idea. This may take a leap of faith at first and seem odd if you are used to giving stuff, but I know families where this has become the major present each year.
2) Give some warm fuzzy time – coupons for time together; a promise for a shared activity that might not happen otherwise. Consider what the person would love to do with you: a long walk, a picnic or a cooking lesson to make your coveted pecan pie. You could also offer a service such as snow shoveling, running errands or babysitting.
3) Agree with your loved ones to only re-gift this year. Who decreed that new is better? Is there a book you really loved that a friend would enjoy? Is there something wonderful in your space that you really don't notice or need any longer, but which would be very welcome in a friend's life?
I bet you will have more ideas, some involving money, some not. Please share them! For me, the bottom line is whether the gift expresses warmth, caring and kindness. So put on your thinking cap and start generating ideas for gifts that don't add to an already overstuffed life or landfill.
Wishing you warm sharing and happy celebrations!