Posted by suevenman on Dec 6, 2013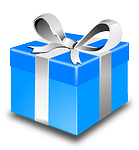 You still have time to try this holiday tip. It's something that I thought about a lot as countries from throughout the world gathered in November in Warsaw for the United Nations Conference on Climate Change. My tip is about making re-gifting a great thing to do for your loved ones and the planet.
I just finished reading a wonderful book that was given to me by a client who had finished reading it, didn't plan to read it again and enthusiastically passed it on to me.
It turns out that this book is on a good friend's book group reading list for 2014 and I drew her name in a Secret Santa Swap. I know that in the past giving her this well-read copy would have been considered a cheapskate move – giving a present of lesser value than a brand new copy. But I propose we rethink this perspective. Why is a brand new copy better than one that is gently loved?
There's an great animated clip from The Story of Stuff  that includes these statistics: the US has 5% of the world's population but uses 30% of the world's resources and produces 30% of the world's waste. It gives easy to comprehend information about how we got into this nightmare of consumerism and what we can do about it. I encourage you to watch it with your family and friends.
But in the meantime, how green can you get this holiday? What's in your home that you've cherished but no longer really see or use? Who in your life would love it? In what ways can you express your love by re-gifting or giving a gift of service or shared time instead of adding to the ever-growing pile of world-wide-stuff?
Wishing you green and loving holidays!