Posted by suevenman on Nov 20, 2013
Little boxes on the hillside, little boxes made of ticky-tacky.
~Malvina Reynolds
Does it seem to you that November is racing by? Is it possible that Thanksgiving is just around the corner? And then, before we have time to take a breath, it's December! Gadzooks! Just when you'd like to be kind and gentle to yourself, your family and friends, the time-treadmill lurches into the high speed.
And it's not only time pressures that accompany the holiday season, it's also the pressure of stuff.
So how do you make a bit of space: space for you and space free of clutter and chaos?
Space-making Tip #1: One Less Task
Take a deep breath and search for one thing you're doing that you can let go of for the next 8 weeks: one activity that you will intentionally put on the back burner. Now, reassign that time block to taking care you! Rest assured the people who count on you will not suffer. In fact, they will benefit from your in-action.
Space-making Tip #2: The Scoop (and I'm not talking ice cream!)
There's that pile of stuff that is driving you crazzzzzzy. You can't bear the thought of dealing with it when there's so much to do. When you imagine sorting through it your shoulders scrunch up, your jaw tightens and you want to scream! But no matter how hard you try, you can't ignore it.
The solution? Scoop! Get a cardboard box and fill it with everything from that pile. Pretend your eyes are closed, because it's crucial that you don't de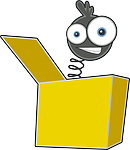 al with the stuff at this moment. Once you've scooped, write the location, the date and Scoop on the top and side of the box. This'll help you track down something that goes missing.
You've probably boxed up stuff like this in the past when an in-law visit was imminent. However, this is slightly different because this time, you're doing it for yourself and your own sanity. Yes, you have to put the box somewhere and yes, sometime it would be good to sort and put the stuff away. But if you've marked and dated the box you're already in better shape. And, you've given yourself the gift of space.
Wishing you and yours a peaceful Thanksgiving!