Posted by suevenman on Oct 30, 2013
I love Hallowe'en. I love the costumes. I love the mystery. And face it, I love the candy. My husband hid our stash so I wouldn't consume every tasty morsel before the 31st. But I've found it (don't tell him) and have been nibbling away; so much for losing those 5 pounds.
Between bites, my Hallowe'en musings lead me to ponder masks. In my organizing work, I often see how our cluttered-selves mask our real-selves. I frequently hear, "I'll get to that (really important, but scary and self-revealing) project once I clean out the garage (or closet or attic)."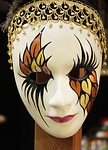 It's easy to hide behind the clutter in our lives. And as long as there's no room on the desk to work or you can't find your pastels and drawing pad (although they're here someplace), you have a ready excuse not to explore your hidden gifts. So your talents remain hidden safely behind the mask of your stuff.
Decluttering is not for the faint of heart. As you rid yourself of unneeded stuff, the mask disappears, making room for more of you to shine through. This can be scary, so make sure you have support lined up. A friend, a therapist or a professional organizer can help you stay the course when the road gets bumpy.
Masks are fun for a time. But masks hide the beautiful, creative, loving faces beneath. If you're embarking on a decluttering project that you've delayed for months or even years, acknowledge that you're doing more than clearing space: you're taking off masks.
So here's to the smiling, shining face beneath the mask: the you that will rock the world!
Happy Hallowe'en!