Posted by suevenman on Sep 27, 2013
Last Saturday I did something that I've warned many of you never to do: I held a tag sale.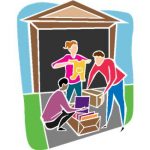 Also known as a yard, garage, rummage or boot sale (as in the English "car boot" or trunk), I have repeatedly cautioned you not to spend time and energy on something that will likely only net you a couple hundred dollars. And yet, there I was, up at the crack of dawn, hauling out boxes of books and vinyl records, house wares, blankets and comforters, furniture and more decorative tchotchkes than even Yankee Candle could find room for.
So, why did I do it?
Like anyone else, I wanted to make some extra cash. But it's rare to make more than minimum wage for the hours it takes to pull off a tag sale. So I knew this couldn't be my only, or even my main reason for inviting strangers to paw through the contents of my house.
I waded through this swamp-like project because I knew that unless I had a drop-dead-date by which to clear my house of unwanted clutter, I'd either never get around to it or I'd do it in dribs and drabs and only tackle the easy stuff.
Holding a tag sale is like inviting your mother-in-law over for dinner: it induces enough panic to get you to scrub the toilet and vacuum up the cheerios. If you said, "I'll have my MIL over after I clean the house," she'd starve. And if I'd said, "I'll hold the tag sale when I finish decluttering the house," my children would inherit the lot. By putting that date on the calendar and calling it in to the local newspaper, I stirred the embers of a fire under my feet.
And, speaking of fires, maybe a big one in my backyard would be a great way to get rid of all the leftover stuff. Marshmallows, anyone?