Posted by suevenman on Sep 12, 2013
Since we're at that time of the year when the weather is rapidly changing, I decided to revisit the seasonal clothes discussion.
Last week I worked with a client, Jenny, clearing out a long-neglected closet. At the back, squashed between a couple of summer dresses and a pair of ski pants, was a favorite jacket she thought she'd lost. It was like a reunion with a favorite college roommate. But as Jenny had just purchased an expensive replacement, she was a bit irked. To avoid this unnecessary frustration in the future I suggested she adopt the seasonal swap.
Nowadays lots of folks don't store away off-season clothes, choosing instead to leave everything in their drawers and closets regardless of whether they are currently wearing them. But for more ease in your daily life (and to lessen the chances of losing favorite garments), I suggest trying out the seasonal swap. It's a delight to reach into your closet and actually be able to wear anything you see and touch.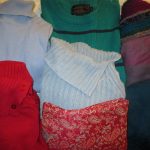 The system Jenny and I set up was pretty simple. She doesn't have multiple closets, and has limited drawer space. We sorted through her summer clothes and packed away (in Ziplock totes – really cool!) clothes that were in good shape, were flattering and made her feel great. We raided her travel supplies and found several wrapped soaps which we sandwiched between layers of clothes for freshness.
Clothes she hadn't worn this season, were ripped, worn or stained, or which just didn't make her feel like a million dollars were donated to her church's tag sale or bagged up and placed in the textile bin at the local recycling center.
Left in Jenny's closet was a wardrobe appropriate to chillier weather (plus enough summer duds for the lingering warm days). Clothes she wasn't sure she'd wear were hung backward in the closet or inside-out in the drawers. If she wears them, they'll be reversed – a simple indicator of which clothes actually get worn.
This simple system works no matter how many clothes you have. It also gives you a chance, twice each year, to ask, "Do I love it? Does it fit? Is it in season? Will I wear it enough to rent it space in my drawer?"
As the weather turns cold I encourage you to take the seasonal swap challenge and free up some drawer space for clothes you'll really wear.