Posted by suevenman on May 9, 2013
Hiatus: "Any opening, break or interruption of continuity."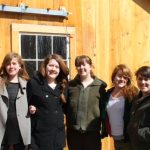 My hiatus from tip writing began with a 2-week visit from my middle daughter. As she hadn't been out east for a couple years, her visit became a 2-week daughter-fest. This was followed by a succession of one-time, time-consuming events, ending last week with magnificent performances of the Bach Mass in B Minor by my chamber chorus.
All were wonderful and fun and joyous reasons to interrupt my normal weekly rhythms. And as I emerge from the last six weeks of delightful disruption, I ponder how to stay on track when events – whether joyous, difficult, sad or just annoying –disrupt the flow of living.
As I often do, I sought advice from the masters; in this case, Deniece Schofield and her book, Confessions of an Organized Housewife. Deniece suggests six household areas which, when maintained, create a sense of peace, even when life's a little crazy:
I am able to keep the house picked up.
I am able to keep the laundry current.
Meals are well prepared and served regularly.
The kitchen is usually in good order.
Bathrooms are cleaned and straightened regularly.
I am able to keep entry areas clean and tidy.
Your list might look a bit different, but the idea is to not ignore the basics, even when life becomes challenging. Despite my added responsibilities, I somehow found five minutes here and there to put away the dishes, throw in a load of laundry and put something green (that's not mold) on the table. Sometimes I dressed out of the dryer and flinched when the doorbell rang; but overall, my stress was lower and getting back to normal has been a lot easier.
As I emerge from this extra-busy time, I've got quite a bit of catching up to do.  But the house is still standing and I've had an exceptional-crazy-heartwarming-busy-delightful spring.
And now (thankfully!), back to routine.
Happy spring!